Apr. 16 (NBD) –Alibaba Group founder and billionaire Jack Ma defended "996" last Friday, further stiring up the discusions surrounding the grueling work schedual which refers to working 9 a.m. to 9 p.m., six days a week.
On March 27, A web link "996.icu" was posted on GitHub, which is a protest against working overtime in tech industry in China.
A month later, 996 is not only a keyword centering on working hour system and individual complaints bound up with Chinese coders' daily life, but also an intensive discussion about social system and personal rights, economic development and cultural change in the whole China.
Back to Nov 26, 2018, there witnessed another heated discussion about working hours and working efficiency on Twitter and the initiator was the well-known workaholic, Tesla founder Elon Musk.
"There are way easier places to work, but nobody ever changed the world on 40 hours a week," Musk tweeted, "If you love what you do, it doesn't feel like work." However, this tweet was not endorsed by his 30 million followers but aroused the public anger.
996, without doubt, violates the Labor Law in China, which stipulates employers should not force their workers to work more than eight hours a day, or more than 44 hours a week.
But the "996" overtime work culture is being discussed and will continue to be discussed. NBD is not weighing in on this topic, but presenting real voices from all walks of life in China.
---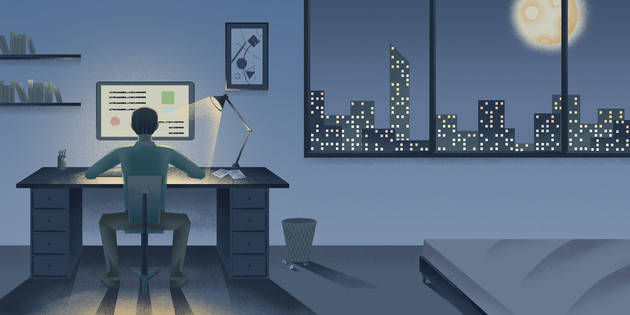 Photo/Shetuwang
"Fight For my career!"
Mr. Zhu, aged 20+, from government agency
My working hours far exceed 996, which can be concluded as "day+night, 5+2". In my office, the average monthly overhours are more than 100 hours and my longest overtime once reached 263 hours in a month.
There is no need to complain. It is undeniable that I can see my future through my struggle today. I have to say, I feel tired but happy. Not only the young but also superiors are working overtime in the agency.
In the early April, there was a big wildfire in Sichuan. I was then working overnight to finish a provincial guidance document and then sent it to the printing factory. In order to direct the work following the fire, all departments directly under the provincial government reached our office for the document at 2 or 3 am. Nobody complained.
---
"As an entrepreneur, I start working the moment I wake up every day."
Conan, aged 30+, Fund Manager in Secondary Markets, Finance
I carried out a research about the catering industry before and I found that the least working hours of many excellent entrepreneurs or managers I know is 996. If they are determined to be the top 2-3% restaurants in the industry, it is not uncommon to work overtime.
It is fierce competition that defines 996 rather than any individual. If you refuse to work 996, then your surely don't wanna do the best.
---
"Do you have any other choice?"
Crystal Flyswatter, aged 40+, investor
Like many other things in the world, the key to understand 996 is not whether you like it or not, but whether you have choices or not. If you do not have any other choice, the crucial discussion about 996 should center on the reward for 996, such as money and career development.
But if you don't have other choices, then losing 996 job may actually pose bigger problem.
---
"A sense of crisis"
Qifan, aged 30+, head of SOCIALYSE office in China, HAVAS Media group, Advertising
I think 996 reflects a sense of crisis. With scientific and technological progress, the demand for manpower is inevitably reduced. However, population has not shown a significant decline. Only by improving competitiveness, can the quality of life be maintained.
---
Editor: Yu Peiying