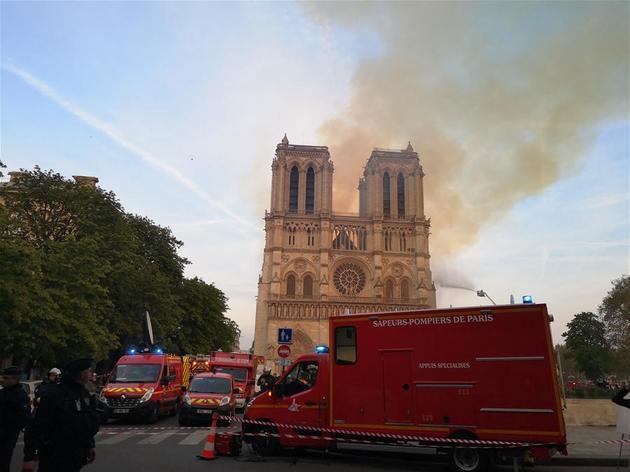 Rescuers gather near the Notre Dame Cathedral in central Paris, capital of France, on April 15, 2019. A blaze broke out on Monday afternoon at the Notre Dame Cathedral in central Paris where firefighters were still fighting to put the fire under control, Paris Mayor Anne Hidalgo said. (Xinhua/Yang Yimiao)
Apr. 17 (NBD) -- A fire flared up in the centuries-old Notre Dame Cathedral in Paris on April 15, destroying the spire and most of the roofs.
The blaze starting from the cathedral's attic spread to all the wooden beams in minutes. French authorities deployed some 400 firefighters, pumped water from the Seine and flew drones to survey the damage, said CNN.
The fire was finally overcome after nine hours of firefighting effort. Fortunately two bell towers, the main edifice and the three largest and oldest stained-glass rose windows were reportedly saved.
The world is weeping for Notre-Dame, but more importantly pondering measures to take museums, heritage buildings and other precious relics under the protection of modern fire control system.
"The fire that devastates Notre Dame will definitely raise global awareness of protection and fire control for cultural relics," said Ma Bingjian, head of a Beijing-based research institution of ancient buildings, in an interview with NBD.
Alarm for fire protection strategy sounded
An article from Forbes commented the conflagration in Notre-Dame Cathedral "is not the first and will not be the last incident to affect a site of great cultural and historical value".
In fact, a series of tragedies have happened to heritage sites across the world.
The National Museum of Brazil, for instance, was engulfed in flames last September, which led to the desperate damage of up to 90 percent of the precious artifacts and other items housed in the building.
Early in 2015, Gongchenlou, a 600-year-old ancient tower located in southwest China's Yunnan, was also ruined in a blaze.
Along with the sorrow over relics' collapses, conservation of cultural relics were constantly questioned.
In an interview with NBD, Tian Jinlin, head of the fire lab with the fire brigade of Yunnan, emphasized the significance of creating preparedness and emergency response programs with liability system adopted and sufficient funds guaranteed.
"Fire prevention and firefighting are battles of equipment, thus a large amount of inputs are needed," Tian explained to NBD.
Another expert on firefighting for ancient buildings called for wide application of modern fire protection systems and technologies for the historic sites, such as image-based fire detection technology, automatic deluge gun and water mist system.

The Internet of Things technology should also be applied to help personnel acquire real-time information of the buildings detected by automatic firefighting facilities, Ding Hongjun, deputy director of China National Supervision and Test Center for Fire Electronic Product Quality, noted in a seminar held this month.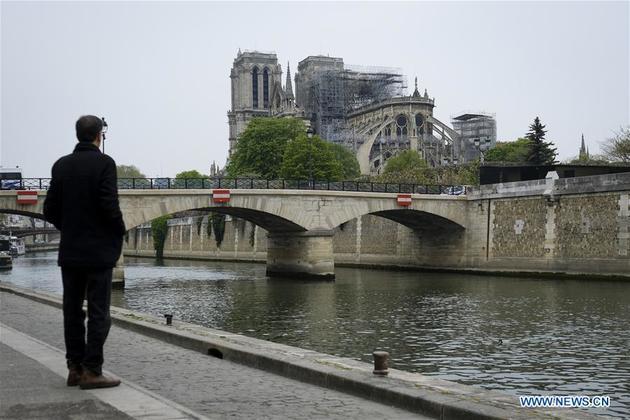 Photo/Alexandre Karmen (Xinhua)
Apart from fire prevention, lightning-proof design is also of necessity for the historic landmarks.
"Many fires on the buildings are caused by natural disasters such as lightning in a thunderstorm," said Ma Bingjian to NBD.
"Once ignited, the site will burn or even produce flashover in a short time," Ma added, underlining the importance lightning-proof design.
Digitalization of collections helps save culture
While the fire protection of the treasures is emphasized, digitalization of heritages is also significant for preserving culture and relics.
On the one hand, the digital technology enable computers to read in all the data about the treasures, just in case of fire or any other avoidless accidents.
Last December, Google opened the online National Museum of Brazil offering digital exhibits for previous items previously displayed in the museum.
The tech giant had begun working with the museum in 2016 to create the digital scenarios, using a combination of "high-resolution photography, photogrammetry, 3D laser scanning, and virtual and augmented reality," wrote program manager Chance Coughenour in a recent blog post.
On the other hand, the cutting-edge technique provides credible reference for rebuilding or remodeling.
Around one month before Notre-Dame Cathedral's incident, VR firm TARGO launched 8-minute documentary titled The Man Behind Notre Dame which was shot in stereoscopic 360 VR, giving audiences access to the cathedral's towers, sacristy, office and rooftops that have been open to the public.
What's more, American art historian Andrew Tallon digitally captured over a billion data points for the cathedral and created a 3-D model of the site, which is deemed a valuable assistance to the rebuilding work of Notre-Dame.
French President Emmanuel Macron has pledged to rebuild the cathedral within five years.
Email: [email protected]
Editor: Zhang Lingxiao